♦ Low noise technology: the unique air-cooling system minimized noise level less than 65dB.
♦ Powerful cooling performance: all-in-one design with built-in applicator enables the most efficient and powerful cooling performance.
♦ 4 different sizes of silicone shapers: it can be used on various parts of the body by simply exchanging the shapers
♦ Safety Mechanism: it induces apoptsis to reduce the number of fat cells exposed to cooling energy without damaging surrounding tissues or vessels other than fat cells.
♦ Control Technology to Ensure Safety: with high-level sensor technology, cryo precisely controls the set values such as time, temperature, pressure, humidity, etc.
♦ Precise temperature control via sensor up to -12℃.
♦ Safe Cup-mounting Method: Cryo is simply mounted into a cup instead of being placed on a user's body, protecting the treatment area safely and efficiently.
♦ Completely Painless, comfortable and no downtime.
♦ Consistent, Measurable and reproducible result.
Specification:
360 fat freezing cryolipolysis machine

3 handles (LARGE / medium / small)

2 can workin the same time
Is cryolipolysis safe?
Conclusion. Cryolipolysis is a safe, effective procedure that helps get rid of stubborn unwanted fat in most areas of the body, such as thighs, upper arms, abdomen, chin, flanks, and everything in between.
REDUCE FAT IN VARIOUS PARTS
Cryolipolysis is suitable for patients with obesity who is willing to reduce fat by non-surgical methods.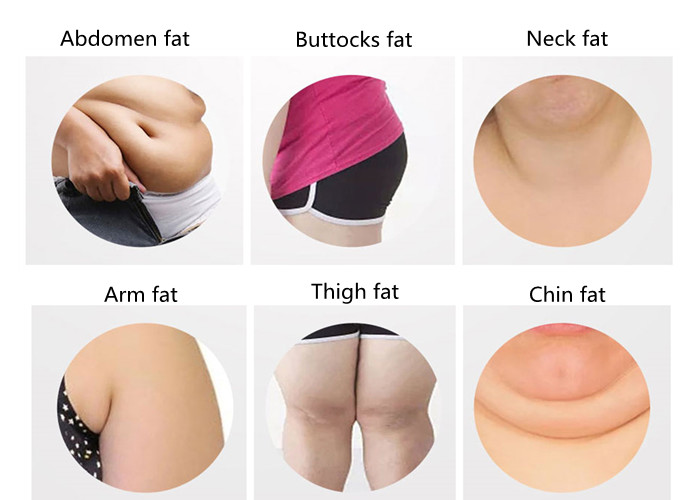 How does Cryolipolysis technology Work? 

1. The vacuum negative pressure treatment head "inhales" the stubborn fat thatcan be sucked up.
2. Non-invasive coolingtechnology is used toactivate the naturalapoptosis.mecha-nism for fat cells.
3. At 4C,fat cells coagulate and die,and thewater in human tis-Sues will not freeze,Soother tissues willnot be harmed.
4. In the coming weeksto months,apoptoticfat cells will be ex-creted from the bodythrough the body snatural metabolism.
5. After 3 weeks,thethickness of the fatlayer will be reduced.
6. After 1-3 months,thethickness of the fatlayer is reduced byan average of 25%,shaping an Scurvedbody.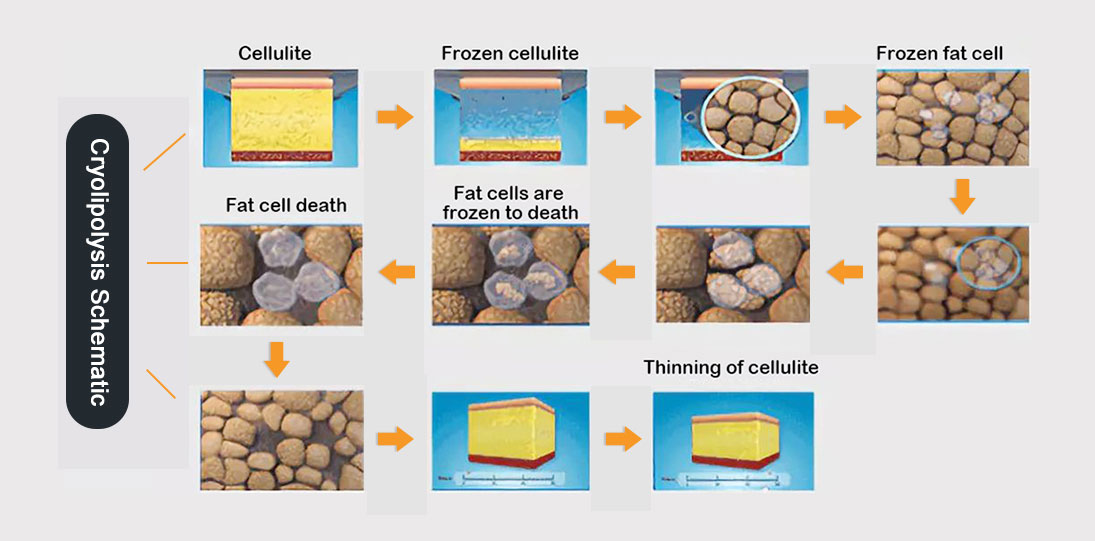 Postoperative care
1. 0days to 3 days Red swelling
Recovery Tips:
There are temporary redness,congestion,numbness in the treatment sites of very few people.
Nursing methods:
1. Within 24 hours after treatment,it can not be washed locally;within 48 hours,hot and hot washing can not be used for local and strenuous exercise.
2. Within 48 hours after treatment,you can not drink coffee and tea.
3. 4 days to 30 days Adaptation period
Recovery Tips:
Fat cells are metabolizing,you need to wait patiently for results.
Nursing methods:
1. After treatment,avoid drinking alcohol,staying up late for 2-3 weeks.
2. Do not eat irritating food(such as pepper,wine,raw onion,etc) within one week after treatment.
3. 31days to90days Effect manifestation period
Recovery Tips:
2-3 two months after the death of the cells completely discharged,to achieve the effect of reducing fat.
Nursing methods:
Maintain proper exercise or walk,eat properly, and strengthen exercise.